"Success is no accident. It is hard work, perseverance, learning, studying, sacrifice and most of all, love of what you are doing or learning to do." — Pele, Brazilian soccer player
The top 10 personalities who have proved that success is the result of hard work are Annu Kapoor, Dr. Sumit Goel, Ka'Ron Gaines, Justyna Nowak-Wysocka, Mehak Walia, Shreya Sinha, Dr. Aarav Sharma, Huma Tanweer, Mayaa SH, and Vaishali Chhabra.
Here is a look at these hardworking and successful personalities:
Annu Kapoor – Veteran Actor, Singer, Writer, Radio Jockey, Television Presenter 
Annu Kapoor is an Indian actor, singer, director, radio disc jockey, and television presenter who has appeared in over a hundred films, as well as television series. His career has spanned over 40 years as an actor, producer, director and singer. He is the proud recipient of several national, international, as well as Filmfare awards for his excellent acting.
Annu Kapoor is a world famous theatre artist who has worked extremely hard since his acting debut in 1983 until now to mark a special place for him in Bollywood. People have loved him as various characters including negative, comedy, emotional, and many more. Hailing from Bhopal in Madhya Pradesh, Annu Kapoor is certainly a veteran actor and a household name in India, and countries where Bollywood has expanded over the years. 
Dr. Sumit Goel – A Doctor-Homoeopath [M.D. (Hom) Gold Medalist] by education and profession, a Teacher-Trainer by intention, and a Motivator and Author by passion
The Teacher-Trainer
Over a teaching span of more than 25 years, he has mentored, taught, trained thousands of medical students, who are today some of the leading names in the healthcare sector in India and abroad. With a 99.33 excellent rating, he is one of the most sought-after teacher-trainers in the field. 
The Doctor-Homoeopathic-Healer
Dr. Sumit Goel belongs to an illustrious family of homoeopaths from Mumbai. He has been practising now for more than 25 years. He has provided a healing touch to innumerable patients over the years with his healing smile, motivational words and the white pill. He amalgamates the latest approaches in health management and life transformation technology to achieve the highest ideal of healthy living. He actively pursues telemedicine so as to reach patients across the globe and integrate technology in treatment.
The Author
Dr. Sumit Goel has been one of the youngest authors in the field of medical text.
At the young age of 29, his first medical book was instantly recognised as the standard text for medical students in India and abroad.
The Motivational Author
"I WANNA GROW UP ONCE AGAIN" is one of the finest works by an Indian Author in the genre of motivational self-help self-empowerment transformational books. The book has an Introduction by Anupam Kher and has been appreciated by luminaries and readers alike.
He is the recipient of "BEST MOTIVATIONAL AUTHOR" and is recipient of "HIGH FLYERS 50 GLOBAL INDIANS AWARD along with many other literary awards for his work.
The book is an inward journey into how we have lived our life, till now and how we choose to live from now!
It is about the journey of transformation, of the awareness and acceptance of our perceptions and patterns and the action of changing the perception and breaking the pattern.
Transformation does not lie in changing the past or controlling our environment. It lies within. What happens to us is not important. What happens in us is important.
Dr. Sumit Goel can be connected at sumitgoel@yahoo.com or visit him at www.drsumitgoel.com
When you go into the space of nothingness, everything becomes known!
Dr. Sumit Goel has been awarded with the "DYNAMIC PROFESSOR OF THE YEAR".
He has been awarded with "YOUNG ACHIEVER'S AWARD" for "Great contribution to the field of Homoeopathy". Having penned many medical books, he has been awarded the BEST AUTHOR, in the field of medical literature.
Ka'Ron Gaines – Global literary sensation, Creator of the term Woke Seed and genre CIC books, a world record holder
CIC books (Child Illustrated Consciousness) are books with illustrations that appeal to children but with content that can enlighten an adult. They were created by Ka'Ron Gaines, also known as Mr. One God, from the USA. He is based in Ypsilanti, Michigan, USA but the support and fanbase he has developed with his literary work in India is truly unprecedented that makes him a true global literary sensation. His books aim to increase the communication between adults and children.
Gaines is the founder of One God Clothing, a popular clothing brand, and One God Publishing. He is also a world record holder for being the first ever author to write and publish six books on the same day, a record he is and should be proud of. As an activist, he is known for starting several movements that propagate non-violence.
Ka'Ron Gaines is the creator of the term 'Woke Seed' which is the basis of his debut book Woke Seed Book, which has been loved by readers across the globe. Mayanti Langer, the popular Indian sports presenter, shared a video appreciating Ka'Ron Gaines, and so did Ruma Sharma, a leading OTT actress.
Justyna Nowak-Wysocka – Poland's leading author of novels with erotic and crime stories 
Justyna Nowak-Wysocka  is a Polish writer who was born in  Świętokrzyskie Province and currently lives in Warsaw.  She is the author of novels with erotic and crime stories. She won the hearts of readers with the novels "Autumn Queen" and the series "Order 999".
The Winner of the SAHITYA RATNA AWARD: TOP 30 LITERARY ICONS OF 2021, Justyna has written and independently published eight novels in Poland: the series "Order 999 (3 volumes), "Blood Man ", "Autumn Queen", 3 lives, 3 trials and "Demons of Success". The novel "Autumn Queen" was released in India and became a bestseller on Amazon.
Justyna put a lot of work into publishing each of her novels, her persistence and energy is admirable. The writer has one dream: she wants to make a film based on one of her novels.
Mehak Walia – A leading and multiple award-winning author and journalist
Ms. Mehak Walia is a multiple award-winning author and journalist. She is one of the few people in the country with multiple books to their name along with over 100 published poems before the age of 25.
As a journalist, she writes for various publications including but not limited to Hauterrfly, Lipstick Politico and Hashtag India.
Her last book named 'The Perfect Literarian' was declared the 'Best Crime and Thriller' for the year by Author Pages Awards.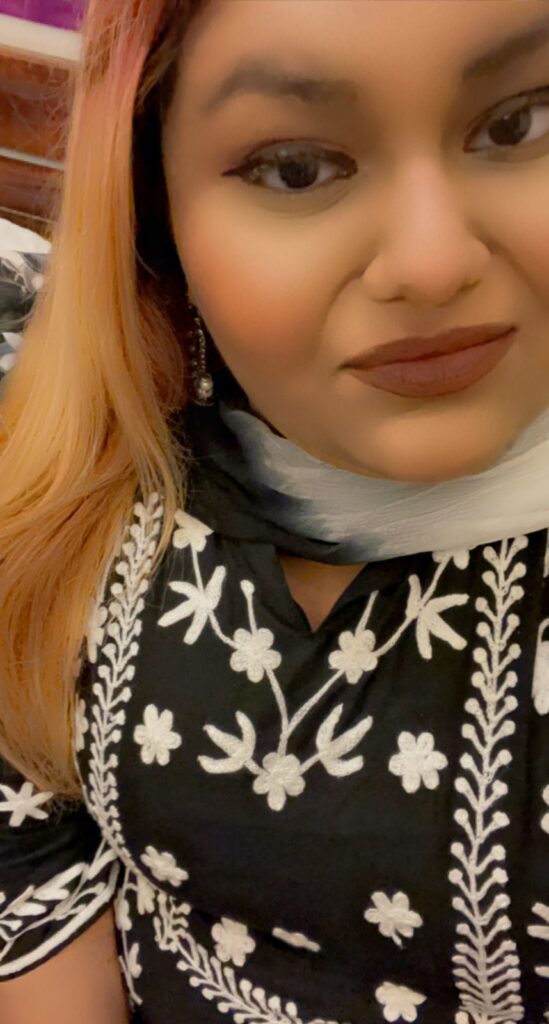 With her hardwork, Mehak Walia has managed to receive a lot of critical acclaim in her career so far. She bagged the 'Prerna Ratan Samman' for her achievements in the field of literature and the Dr. Rajendra Prasad National Excellence Award too. She was also named an 'Upcoming Literary Icon' and 'Aaj Ki Naari' by Cherry Book Awards.
Shreya Sinha – Multi-talented Personality, Author, Poet, Host, Teacher, and Speaker
Shreya Sinha (born 2001), hails from Bhagalpur district of Bihar in India. She was born and raised in Bhagalpur. Right from her childhood, she took interest in multiple things including creative writing, dance and public speaking.
But things were never easy for her as she was a below average student. Due to her low performances in school examinations, she had to face criticism from everyone around her. But slowly, things changed. A below average student turned into the topper of the class, through hard work. She won best in academics for a record of 5 times in her school. Thus, a mediocre student ended up being school topper (2017).
After completing her schooling, she decided to pursue science. Generally students opt for subjects at which they are good. But she decided to pursue a subject which is challenging for her. 
After completing her schooling, she started earning by giving tuitions to school students as the teaching job matches her skills and schedule. Thus, she became financially independent at a young age of 15.
Two years passed, and finally came the day of result. Her happiness knew no bounds when she got to know that she passed with flying colours.
She took English Literature for her bachelor degree and got herself enrolled in one of the best colleges of her town. And this was the game changer of her life. She started taking part in various speech, debate, extempore competitions organised at college and university levels. She won almost all those competitions. Thus, she became a popular face in her college.
She joined NSS (National Service Scheme) in 2019 and established herself as a devoted volunteer of NSS. Under NSS, she took part in plantation and cleaning events. Also during the covid times she worked in a vaccination camp.
Her achievements under NSS includes :
● Runner-up of District Youth Parliament, 2020.
● Vice-Chancellor of Tilka Manjhi Bhagalpur University felicitated her for being a representative of Bhagalpur at State Youth Parliament on 8th March, 2021.
● Best NSS Volunteer Award, 2022.
● She was a team member of Bihar Team for National Integration Camp, 2022 which marks her first National Level Certificate.
And in addition to NSS, she actively took part in various other things as well. She hosted the event of the then Labour, Mines and Tourism Minister (Bihar Government) in January, 2021. And she was appreciated thrice for her anchoring skills by the Minister itself. She won District Level Quiz Competition, 2022 organised at Agriculture College, Bhagalpur. She won #AIRNxt organised by All India Radio too.
Her poems and articles were published in college magazines and local newspapers. Recently her poem 'Her Eyes' got published in an anthology namely Illuminate which was compiled by Smilee Prashant Bhatt.
Her hobbies include dance. And she loves talking to her close ones.
So the next time you hear someone saying that one cannot do multiple things as we all have only one life, tell them the story of Shreya Sinha.
Dr. Aarav Sharma – Bestselling Author, Inventor, Believer of Human Values and Mindset 
The name "Aarav" is a name of Hindi origin meaning Peaceful, Noiseless, Calm along with Smart, and Good Personality. Aarav is an alternative name for Lord Shiva. Aarav is derived from the Sanskrit root "rav," which is related to peace and music. Aarav is also associated with the concept of wisdom.
Dr. Aarav Sharma, born on Mar 21, is a person who believes in Human Values & Mindset. He says, No-one is Perfect & that's Okay. He always emphasises that we all are Unique & Comparison between 2 can't be possible. We all individually are the Rare Creation but unfortunately have been forgotten.
Academically, he started from St. Xavier school & ended up with a Post Graduate (MBA) in Finance & Bachelor of Law (LL.B). Also Studied in Institute of Chartered Accountants of India & Institute of Company Secretary of India along with CFA. 
Also in 2022, he got certification from IIT DELHI (in Marketing & Branding) & IIM KASHIPUR (in Finance)
At the age of 5-10, he delivered a Speech on Bhagvat Gita.
At the age of 10-15, in 2005, did a programing & created a Software based on Astrology & Physics laws that could predict the Future (inspired by movie "Koi Mil Gaya" )
At the age of 15-20, in 2010, he invented an Electronic Device that could confirm the area of any appliance that is affected so anyone can fix it. Also invented the current water level alarm (not available at that time). Applied for Patent in Mumbai office but as it was a costly process hence took a step back.
At the age of 20-25, in 2016, formed a successful Startup but due to less support, did shutdown after 1 yr.
At the age of 25-30, in 2021, he become Author of 2 International Best Selling Book, "JUST BE : INSEARCH OF A BETTER YOU" & "EVERYTHING IS MINDSET : BUILD IT" (available on Amazon, Flipkart, etc). Received Honorary Doctorate in Literature. Also again started a New Venture.
Currently working on upcoming Books "Mirror – Your Ginee to Life", "Live your Now – Illusion to Reality" & "Why I Can't be Rich" and for Passion, preparing for Guiness Book of World Record & TEDx Talk.
Huma Tanweer – International Author, Screenwriter, Columnist, and Motivational Speaker
Huma Tanweer is an International Author, Screenwriter, Columnist and Motivational speaker. She is a recipient of Asia's Top 100 Influential Woman Award, 2021. She is also a recipient of the international literary award in the category of "woman writer of the year". Early in her career at the age of 19, she signed a contract with Lambert Academic Publishing, Germany in 2009. Her first book "The Social and Controversial issues" was published in 2010 and received accolades from such notable figures as Salman Rushdie and Shashi Tharoor.
She has been regular in writing many youth awakening articles in Newspapers and many other reputed magazines. Her articles and interviews have appeared in Hindustan Times, Dainik Bhaskar, India Saga, Daily Hunt, The Hindu, India Today, The Indian Express, The Kashmir Monitor, The Kashmir Radar, Zee News, The Street, Vents Magazine, and Times of India's city supplements, among others. She holds a postgraduate degree in Travel and Tourism Administration from Banaras Hindu University. She is the author of seven books. Her books are also nominated for International Commonwealth Awards. Huma has spoken at top universities and colleges as a guest speaker, on topics ranging from women empowerment to pursuing non-traditional careers.
She has also made multiple television appearances and spoken on various panels and forums, joining the panels with Dr APJ Abdul Kalam, Arvind Kejriwal and Shabana Azmi. She has received (attention and) praise from global celebrities & influencers such as Shashi Tharoor, Remo Desouza, Arindham Chaudhari, Salman Rushdie, Raj Kundra, Sushmita Sen etc. She was recognized as one of the youngest non-fiction authors in the world.
Mayaa SH – Women Empowerment Culturist, Award-winning Author, Double World record holder, Artist, Record Chart Topping International Fastest Anthology Co-author 
Mayaa SH is a multi National Award Winner and a Double World Recorder, An Artist and a Record Chart Topping International Fastest Anthology Co-Author . Mayaa SH is a Women Empowerment Culturist .She has depicted gender inclusivity and equality through her certifications from the United Nations and powerful writings on Feminism. Her work depicts the identity,economic and social freedom of many.
She has co-authored more than fifty plus anthologies and has been featured in several magazines and women oriented like Tejaswi -The Imperishable on Women Power and Honour including few international magazines. Mayaa has written on various topics like Feminism, Transforming Vision Into Action: Transmogrification on Transgender Community and Mental Health Awareness Topics .Her first poem "The Candle In The Wind" made her win an Award at the National Level. She navigates many women through stress by deploying talking as a medium to combat stress and fear . Being an absolute homebody at heart ,yet extroverted, she often fantasies herself as a TEDx Speaker inspiring millions of women all across the globe to live their dreams.
Mayaa is an avid motivator of uplifting women across all sections of the society by navigating them through emotions and empowering them to rekindle hope and self-belief.She has Written For Patriotic Books like Vande Matram and Bharat Bhoomi ,Regular at Lekhak Mandali ,Writeathon Writing Challenge in March 2022 and was awarded with the limited edition trophy of tributary The 21st Century Emily Dickinson Award, She has also written quickest quotes under an anthology titled "दिल शायराना है 4 under DJ Publication ,Several Articles for websites like Webstory India,The DailyBeat, The Update India, Hindustan Metro ,Daily Hunt ,Indian Stories Live,Tales That Matter ,Funky News , RB Live Media ,Republic News India, Medium , India Stardom, Youth Ki Awaaz, Stay Featured etc .
Vaishali Chhabra – Award-winning multi-talented personality 
Eminent Indian Multi-talented Personality and Multicolor Artist Vaishali Chhabra resides in Noida with her parents. She received The Eagle Eye Network Award in recognition of her outstanding contribution to Indian art. Since she was nine years old, she has excelled in numerous art competitions.
She declares, "Art is my passion, and I work hard at it." Additionally, she disclosed that she had been chosen for The Queen Awards by The Eagle Eye Network and also the extremely precious Aaj Ki Naari Award by Cherry Book Awards. 
Thanks to debut director and producer Mohammad Salil Khan, artist and Bcom graduate Vaishali Chhabra has just started acting.
Although she doesn't study well, she is a prodigy at multicoloured art. Her friends think she will soon become legendary.
According to Vaishali, beauty is in the sight of the beholder, whereas hotness is in the eyes. She is as hot as her artwork. She has been highlighted by prominent Indian media outlets including Hindustan Metro, Web Story India, Punjab Metro, Yolo Daily, Sarhad Kesari, etc. She aspires to succeed in life.
She represents the contemporary Indian woman. who their parents ought to be eternally proud of.