PM Modi meets Droupadi Murmu , appreciates her understanding and vision for India
PM Modi meets Droupadi Murmu , appreciates her understandig of grassroot problems and vision for India's outstanding development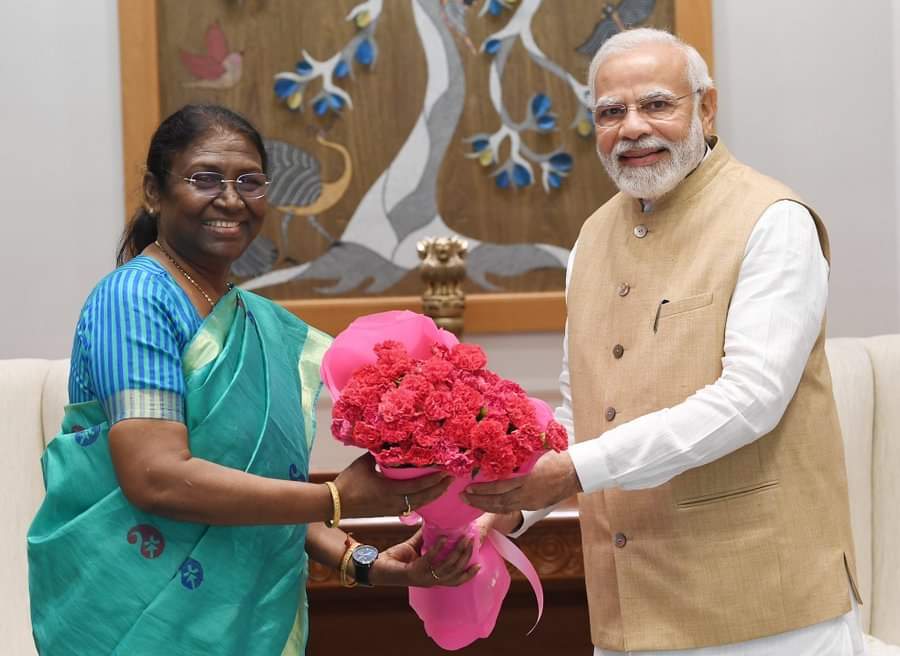 PM Modi meets Droupadi Murmu , appreciates her understandig of grassroot problems and vision for India's outstanding development
It is Draupadi Murmu vs Yashwant Sinha in the July 18 presidential polls.
The ruling NDA and the opposition both declared their nominees for the upcoming presidential polls in July, with the BJP's parliamentary board nominating former Jharkhand governor Droupadi Murmu, who hails from Odisha and will be the first Tribal woman to be President of India. The Opposition declared former finance minister Yashwant Sinha as its candidate.
PM Modi meets Droupadi Murmu and appreciated her understanding of grassroot problems and vision for India's outstanding development. He captioned the image on Facebook as follows:
Met Smt. Droupadi Murmu Ji. Her Presidential nomination has been appreciated across India by all sections of society. Her understanding of grassroots problems and vision for India's development is outstanding.
Link to Facebook Post: https://m.facebook.com/story.php?story_fbid=pfbid02QBztCbKNXZmHVi2Cg5b6635tYdnaRuM5FEsu5xieabdY5ka28eh34bhPkL957wWJl&id=100044527235621
Watch 8 Unseen Images of Droupadi Murmu: https://theupdateindia.com/8-unseen-images-of-ndas-president-candidate-droupadi-murmu/
The 64-year-old two-time BJP MLA and former Odisha minister from Rairangpur in Mayurbhanj was nominated by the NDA as its candidate for the presidential polls next month. In 2015, Droupadi Murmu was sworn in as the Governor of Jharkhand and remained on the post until 2021.
SEVEN YEARS after being sworn in as the first woman Governor of Jharkhand, Droupadi Murmu's political career has taken another key turn.
In Jharkhand, officials and politicians describe her as a "compassionate and balanced" administrator who remained "accessible and down to earth" — and recall two key junctures where she played a crucial role in allaying fears among tribals while "giving proper directions" to the government.
Jharkhand's BJP media co-incharge Ashok Baraik, who frequently visited Raj Bhavan during the previous BJP government's tenure, said: "It was the first time that tribals could easily meet the Governor. She will definitely work to uplift the tribal community in the country."