India is celebrating its 75th anniversary of her independence on August 15, 2022, Monday. This is the 76th Independence Day. Har Ghar Tiranga has been a successful campaign, and crores of Indian flags have been sold by the Department of Posts, India.
This year, the government of India organised several events under 'Azadi ka Amrit Mohatsav', with the theme 'Nation First, Always First'. To mark the day, the government has also aimed to hoist more than 50 crore tricolours.
Here is a look at some of the amazing pictures from all corners of India, and some even from other nations where the Indian diaspora celebrated Independence Day with as much energy, passion, and vigour as in India.
PM Narendra Modi's official address to the nation on Independence Day
Indian Navy warships hoist the tricolour across six continents, three oceans, six different time zones
Recently, India broke a Guinness World Record as Chandigarh University students made the world's largest human formation by waving a national flag at the Chandigarh Cricket Stadium, Sector 16.
Monuments across India lit in the tricolour
Super Stars from the film industry- Rajnikanth, Amitabh Bachchan, Shahrukh Khan, Salman Khan, Sonu Sood hoisted the tiranga with pride
Cricketers including Sachin Tendulkar, Rohit Sharma and others seemed very happy posing with the tricolour this Independence Day
Proud Indian Cricketers Rohit Sharma and Sachin Tendulkar with the Tiranga
Political Leaders including Amit Shah, Yogi Adityanath and others with the tricolour on Independence Day
Amit Shah, Yogi Adityanath posted their pics with Tiranga on their social media
Eminent Literary Figure, Financial Expert, and Bestselling Author R K Mohapatra celebrated Har Ghar Tiranga, both at his office and home with exceptional national spirit
Farhan Lari, an award-winning poet and writer shared his pics saluting the national flag
Youth Writing Sensation Ali Ashhar shared his pic with the tiranga
Popular Tattoo Artist Chetan shared his Reel posting next to the tricolour
Sohini Sarkar, a young talented Indian, shared her pic with the national flag on Instagram
Artist and Author Pallavi Jeethan painted the tricolour on her face to celebrate the Independence Day
Author and Humanitarian Award Winner Debjyoti Das Rana shared a Reel in respect of Indian Independence Day
Happiness coach, singer, author, graphic designer, goodwill ambassador Dr. Sai Kaustuv Dasgupta, also popular as the Wheelchair Warrior of India shared his pic with the Indian National flag to mark Azadi ka Amrit Mahotsav
Popular Poet Pinki Khandelwal shared her pics on Instagram and also penned down a beautiful poem on India
एक मुहिम : हर घर तिरंगा by Pinki Khandelwal
लहर लहर लहराता तिरंगा हमारा,
नहीं रहा कोई घर गली ऐसा,
जहां न लहरा रहा हो तिंरगा,
मानो दिलों से निकली एक आवाज,
मिल कर सब लहराए तिंरगा,
हर ओर छाया है देशभक्ति का नारा,
यह सोच यह मुहिम,
लोगों को याद दिला रही वो आजादी,
जिस खातिर न जाने कितने लाल शहीद हुए,
न जाने उन्होंने कितना संघर्ष किया,
तब जाकर लहराया आजादी का तिंरगा,
क्यों न एक बार सब मिल जाए एक ही रंग,
वो रंग जिसमें प्रेम भाईचारा झलकता है,
जहां आपसी प्यार का सागर भरा हुआ था,
यह सिर्फ 15 अगस्त तक सीमित न हो,
हमारा हर दिन उन वीरों की शहादत पर,
उनके घोर परिश्रम को याद कर बीते,
आजाद भारत उन वीरों की कुर्बानी से मिला,
जिन्होंने भेदभाव को समाप्त पर एकता पर बल दिया,
यह देश हमारा है हमें उस पर गर्व है,
यहां की मिट्टी की सौंध हमें बड़ी भाती है,
यहां का हर व्यक्ति हमारा है,
यह सोच यही विचार,
हमारी आजाद हिंदुस्तान की पहचान बने।
Gargi Ganguly shared a collection of images on Instagram to celebrate the 75th year of freedom
Kayra Singhal, 5 year old daughter of Kavita Singhal dresses up as a freedom fighter.
Yashab Siddiqui, the young content creator shared his pic with tiranga
Singer Rahul Vaidya celebrated Independence Day with full passion and vigour
Balenrdra shared his pic on the occasion of Independence Day
Writer Aditi Dev shared her pic with the Indian National Flag on Instagram
Amitt from Hyderabad posed near Char Minar with the national flag to celebrate Independence Day
12th MLA of Palitana Constituency and BJP Vice-president from Gujarat , Mahendra Savariya and his supporters took out a massive tricolour procession to celebrate Independence Day
Lalita Khade posed with the tricolour band
Miss Purnea Jasmeet Sehgal remembered the freedom fighters and soldiers who lost their lives for our mother nation
Traveller Natasha wished all Indians a very happy Independence Day
Uttarakhand youth Aman Giri posed with the national flag
Moj app video creator Bhanita Boro wished everyone a happy independence day
Blogger Vaishali Swapnil Mohadikar wished everyone a happy independence day
Artist Shreejana Gautam spotted with the tricolour
Wrestler and Politician Anuj Pehalwan shared his wishes on Independence Day
"Freedom does not come easy and neither did ours," said Actress Urvashi Rautela as she remembered the freedom fighters and martyrs of the Indian Independence Movement on this Independence Day
Content creator, blogger, and reviewer Akshara Bansal shared a special Reel to mark 75 years of Independence
The Youngest CEO and Founder of Ahmedabad, Dev Bhavsar shared his pic with the national flag to celebrate Independence Day
Famous writer, poet, and flowers lover Rupa Gogoi shared her adorable pic with the national flag
Debasish Gogoi shared a Reel holding the national flag to mark 75 years of Independence
Popular Bhojpuri Actress Rani Chatterjee, who was recently seen on the cover of The Eagle Eye Magazine shared a Reel celebrating 75 years of Independence
https://www.instagram.com/reel/ChOq7KfJXkC/?igshid=YmMyMTA2M2Y=
Writer, Graphic designer, and student Semina Himani shares her pics with the tricolour to mark 75 years of Independence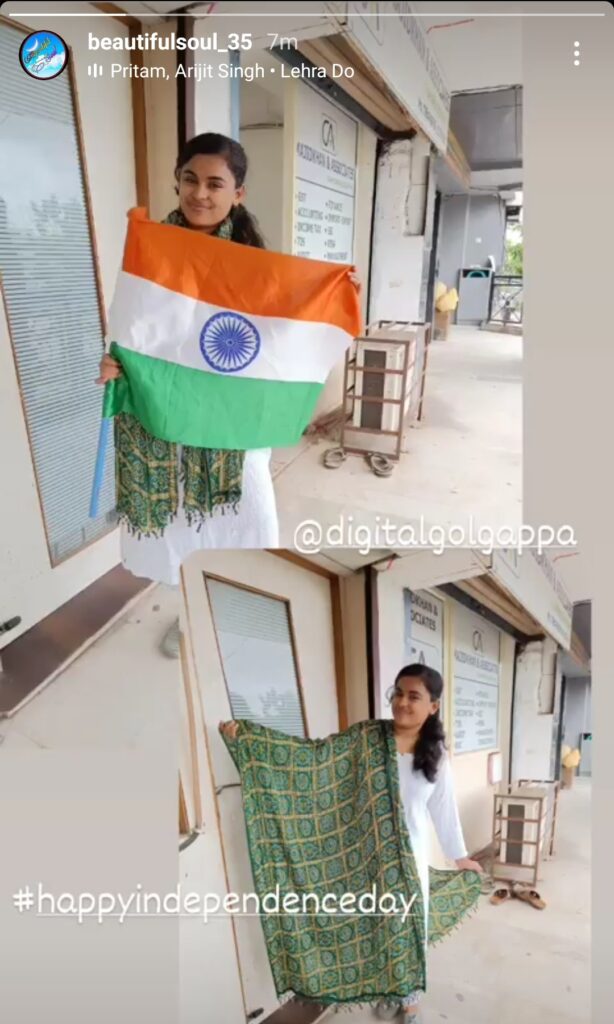 Renowned author from Pathankot, Hitesh Abrol and kids share their pics on Independence Day
Dubai's Burj Khalifa Lights Up with Colours of the Indian Flag to Celebrate Independence Day 2022 – Viral Bhayani shares the video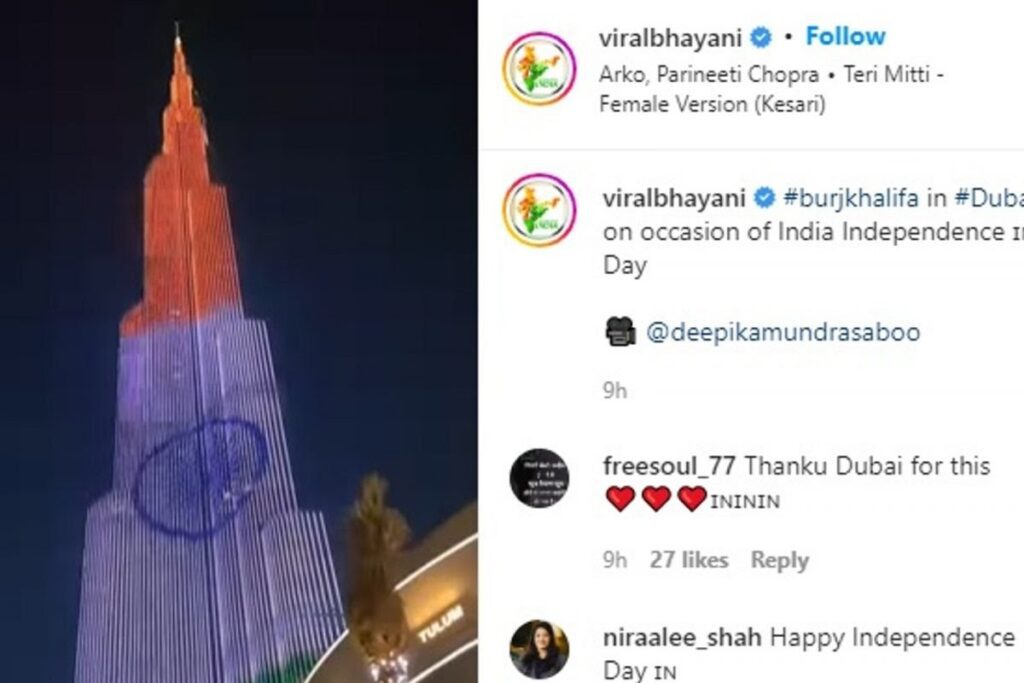 Women in traditional attire participate in a rally to mark the 75th anniversay of India's Independence Day in Mumbai
To celebrate 75 years of India's Independence, 75 artists from across the country have come together to release a patriotic song 'Jaya Ho'. Titled 'Jaya Ho 2.0', the song has been conceptualised, composed and directed by Sourendro Mullick and Soumyojit Das, popularly known as the Sourendro-Soumyojit duo. It is a rendition of the full five verses of Bharat Bhagya Vidhata, written by Rabindranath Tagore in 1911. The first para of the song has been adopted as India's national anthem Jana Gana Mana.
On Independence Day, Indian-American Astronaut Raja Chari Shares Photo Of Indian Flag At Space Station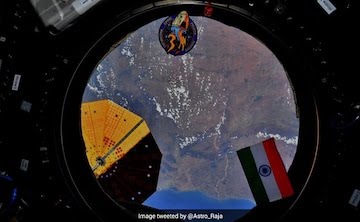 An old Assamese couple's pic with the Indian flag went viral on Independence Day
Arpit Bhargava hoists the national flag at Gwalior
Popular TV Actress Shafaq Naaz who recently featured on the cover of The Eagle Eye Magazine celebrates Azadi ka Amrit Mahotsav by posting a pic with the tiranga
One of India's well known and award winning writers, Yogitha Subhash shared her pic with the tiranga to celebrate Independence Day
Priya Ahuja Rajda, a popular actor who was recently seen on the cover of The Eagle Eye Magazine shared an adorable Reel on Instagram to mark 75 years of Indian Independence
Blogger Rishika celebrates Independence day in Siliguri
Blogger Shital Kumavat poses with the national flag
Editor Mamta Rathore with the national flag
Award winning writer, the Multi-talented personality Rajashekar TMK shared an amazing art video on the occasion of Independence day
Mary Majhi shared a video showing the Independence Day procession and rally in Bhubaneswar Odisha
Sukanya Mondal shared her pic with the tricolour just outside St. Xavier's College in Ranchi
Ekta Gupta wished Happy Independence Day to all Indians
Smilee Prashant Bhatt shared the Independence Day celebration pics from Mahesh Coaching Classes for Commerce in Mumbai
Shweta Singh celebrated Azadi ka Amrit Mahotsav posting a vibrant pic