Kaushiki Sarkar is the Founder of Enchanted Books Publication is an earthling since 11th May, 2004. She hails from Kolkata, West Bengal. She is Nyctophiliac. Darkness, moon and stars soothes her soul. She buried her thoughts and emotions inside her until she started writing. Writing is her antidote and passion. She is also a Naturalist and Social Worker.

She was featured in the Cover Story of RK Magazine (May Edition 2022) and in an international magazine, Pachagazine. She has won numerous awards. She is featured in national and international News Sites, Magazines and in an Weekly International Newspaper.
Kaushiki Sarkar is an ambitious woman who has accomplished incredible things at a young age against all odds.

Entrepreneurship is a journey. In this journey she aims to understand, experience, share and learn. She dreams, plans, believes and acts to accomplish her dreams.
Enchanted Books Publication is a publishing house that was established in the year 2022 on 9th June.

It aims to fulfill the dreams of budding writers and aspiring authors worldwide. The team tries it's best to guide and support the writers to get their dreams inked.
Enchanted Books Publication publishes each and every book with love, moulds beautifully and gives a fresh look to your thoughts.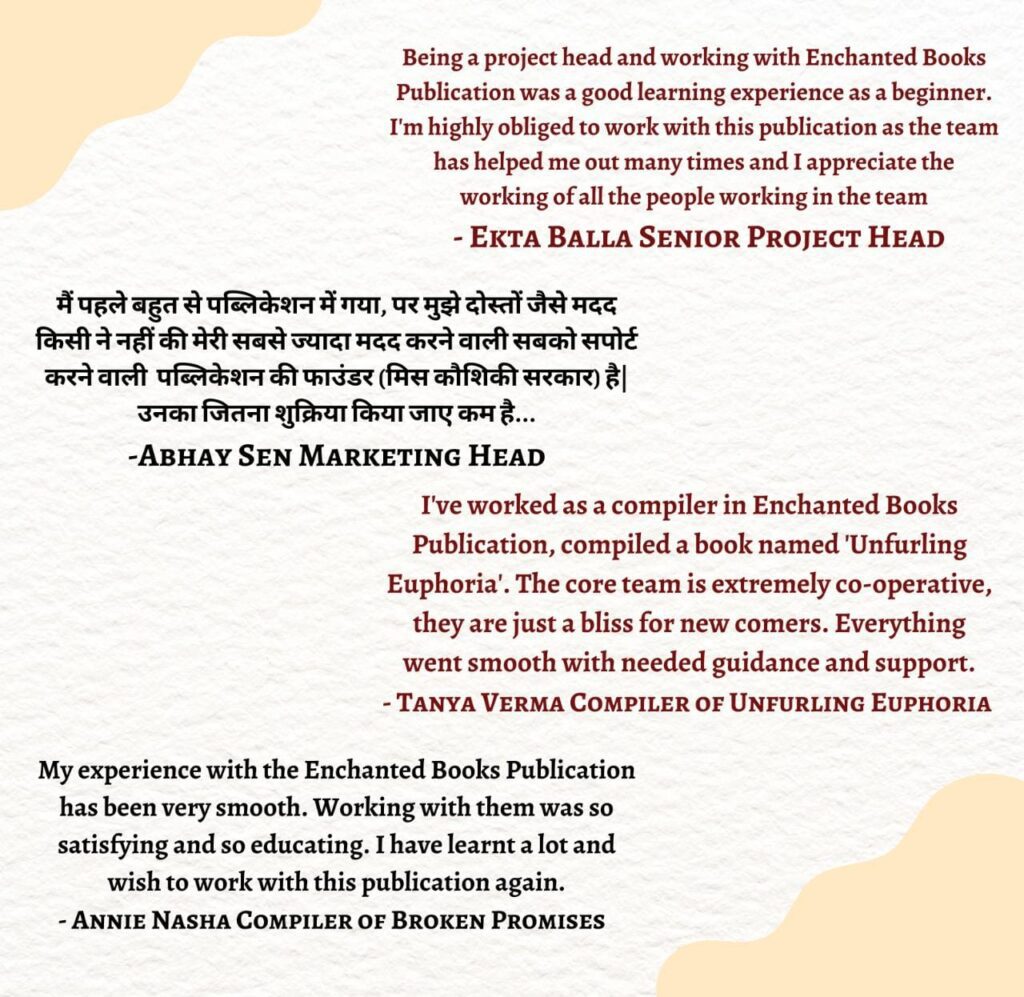 The publication provides Solo Book and Anthology. They conduct different kind of Contests and Workshops. They also organize awards to honour and recognize talent from different fields.
Enchanted Books Publication will be coming soon with magazine, podcasts and many more new projects.
Enchanted Books Publication not only help the writers and authors to publish their works and books successfully but also provide PR and Marketing. They believe its important to send the right message to the right place and right people which helps to create stronger brand reputation.

It's important to transfer the right message in impactful ways and promote the author and their work and book.

Enchanted Books Publication not only helps in publishing but it also helps in sharing the stories of thousands of author across the world.
They include PR and Marketing in the packages and it's available in affordable price.
Enchanted Books Publication design beautiful book covers. Proofreading and editing is done by professionals.
They always try to provide best quality of Book and Perks.
According to the requirements of writers and authors they provide packages.
"Your needs are a priority here."
Authors are free to customize the packages. Packages are budget-friendly.
Enchanted Books Publication will be coming with its Writing Community for Budding Writers to shape and guide their pen, so that they can express and breath out their thoughts beautifully.
Enchanted Books Publication will always initiate to do new projects so that writers and authors can explore and let their creativity shine.
FULFILL YOUR DREAMS WITH US.
YOU WRITE, WE PUBLISH