Elahi Byapar Official is one of the most popular page in Bengal Instagram Community. It was established on 20th July, 2020 by Amritaksha Chatterjee. By hardwork, dedication & creativity, they have gained a followerbase of across Twenty Thousand. They have earned INKZOID Book Of Records 2021 under INKZOID FOUNDATION for their book- "Elahi Goppo".
Elahi Byapar celebrated their 2nd Anniversary on Urban Masala with their teammates. Mr. Durlav Sarkar (Celebrity Entrepreneur, Founder of Inkzoid Foundation) was the chief guest of the auspicious event.
Elahi Byapar have collaborated with many renowned brands like LG, BiryaniByKilo, Dettol, 7UP, Pepsi. They have worked with popular organizations like Inkzoid Foundation & Rotaract Club Of Calcutta. Elahi Byapar have also been the Media Partner of many Short Films. They have taken interviews of many celebrities like Ananda Chowdhury (Renowned Television Actor), Kamalika Dey (YT- Foodyy Bangali 28k+), Aritra Banerjee (YT- Aritra's Gyan 130k+).
About The Core Team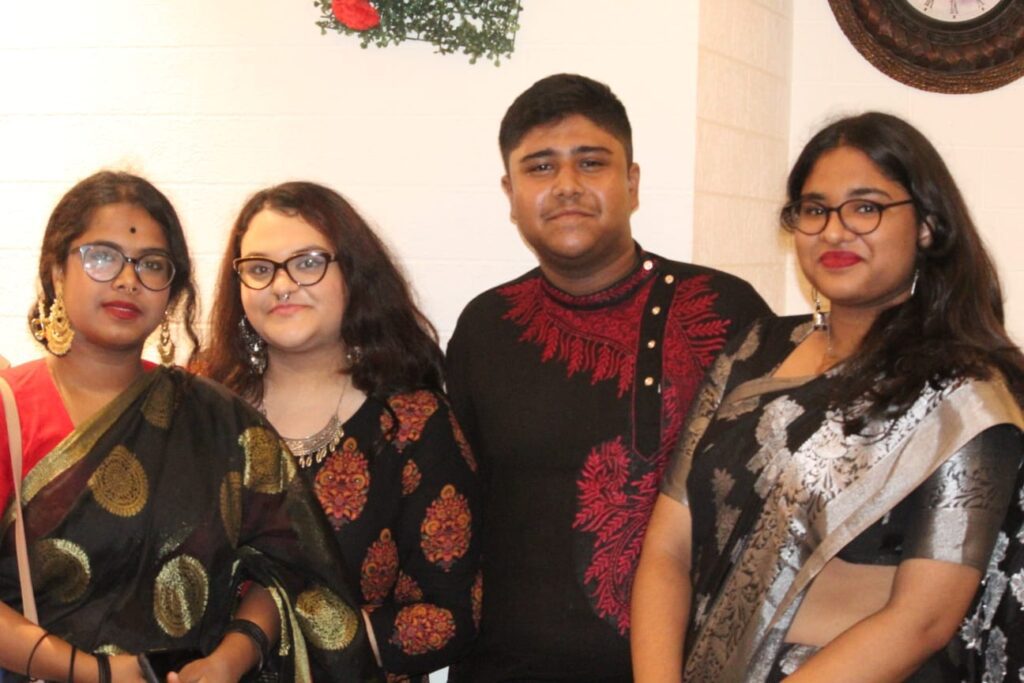 • Amritaksha Chatterjee
Amritaksha Chatterjee is the Founder of Elahi Byapar Official. He is a Multiple Award Holder Photographer. He is from South Kolkata, currently studying in National Gems H. S. School in 12th standard. His name has also entered in Glorious Book Of Record as a food photographer.
• Abhilasha Bhattacharjee
Abhilasha Bhattacharjee is the Co-Founder of Elahi Byapar Official. She is a passionate dancer. She reads in National Gems H.S. School in 11th standard.
• Tiasha Laha
Tiasha Laha is the Team Management Head of Elahi Byapar Official. She also owns a page named- "Kolkata Nostalgia". In her words- "Elahi byapar holds a special place in my heart. I joined Elahi Byapar as a meme writer never knew today I will be holding such wonderful place. I feel really very glad being a part of this family. When u love someone you dnt get get words to express the love for that particular person same goes for me. I can't express why I love Elahi Byapar so much . This family has always supported me on my bad days, cheered me up and always motivated me for postive thing's. I found good friends also some people who bullys you but among all of these. I found good online friends who will stay with me whatever happens. This small family went through many things but no matter what happened we stayed:) For me , Tiasha Laha, Elahi Byapar is something I can't express in words"
• Mahasweta Biswas
Mahasweta Biswas is the Interviewer & Public Relation Executive of Elahi Byapar Official. She has taken interview of Mr. Durlav Sarkar (Multiple Record Holder & Founder of Inkzoid Foundation) & Subhodeep Mitra (Renowned Music Producer). She is also a Voice-Artist by passion. In her words- "When it's comes for talking about Elahi Byapar , the first and foremost thing that surges up in my mind is "PROSPERITY".
Taking it back to 2020 , the year of pandemic when the page came into being,, I was just scrolling down my insta feed when i received a message from an unknown user. I accepted and continued to talk. Recieved the offer to join the team. I had no literal knowledge regarding the term "Social media page" . Well I thought it would be fun to take part , and so I entered the TEAM, with just a few hundred followers.
Gradually Elahi hit 1000 followers on Instagram. I won't say that was a rapid growth, but was a steady one . Eventually I learned a lot, A LOT. I learned what growth means and what all phases it needs to overcome in order to attain A Glorious Stage, or peak .
Many people came, many left, and few stayed back considering it to be a part of the journey. I must acknowledge the fact that Elahi Byapar had met a lot of people until now, and will be meeting many more in the near future, but the contribution of each and every person, to whatever extent it was , has let the page to where it's standing today.
Besides the contribution and hardwork of the members of the team, let's talk about the MAIN CHARACTER, THE FOUNDER – AMRITAKSHA CHATTERJEE. Had he not planned for bringing up the page that day , his staggering talent would have remained caged within him. An Absolute Dedication would be the perfect phrase to describe him. His undeniable and constant hardwork has been the major input into the formation of this BIG CREATION. I believe if this passion in him keeps rooting the soil , one day the sprout will outshine it's immeasurable beauty to the whole world . Also , can't disregard the constant support provided by the Co-founder , Abhilasha Bhattacharya, and other Core Members.
Lastly, as I approach to the end , I would always thank THE TEAM , THE FOUNDER, and all other members for having me as One of the Core Members and helping me out to outshine the minimum skills that I beared. I am greatful for all the best memories that I got to share and some momentous events that were offered to me. ELAHI BYAPAR is 20K+ FAMILY now, and would be extending even more gradually. Let's all hold the hands tightly and win the golds of the life with umpteen happiness and Love . ELAHI WILL REACH IT'S PEAK ONE DAY, AND THAT DAY WOULD BE THE MOST AUSPICIOUS DAY, AND I BELIEVE TO BE BY IT'S SIDE THROUGHOUT THE JOURNEY.
THEREFORE, "ELAHI" MERA JEE AAYE AAYE.."
The All-Time Supporters of Elahi Byapar
• Ankita Mukhopadhyay (Brand Consultant of Elahi Byapar)
• Durlav Sarkar (Business Mentor Of Elahi Byapar)
• Parsati Datta