Books shape the personality of humans in general. We have picked four contemporary bestselling authors who are creating a big impact on the readers with their magnificent writing.
Megha Bajaj
Bestselling Author Megha Bajaj is the New Voice of India and has often been referred to as India's most loved author. Her latest book, The Breakthrough published by Rupa Publications has been playing a humongous role in uplifting human consciousness and has sold 13,000 plus copies already! Megha is one of those authors, whose words simply bypass the mind and go to the heart and create instant transformation. She is an ardent seeker, and a follower of Guru Mahatria.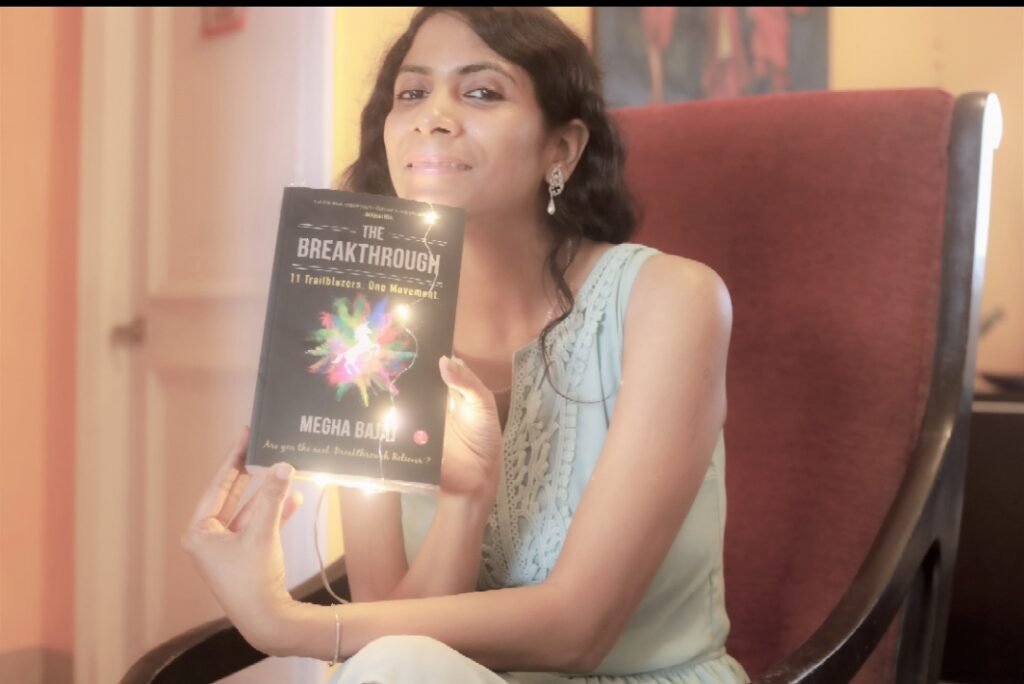 The Breakthrough, is a book about you. Though it contains the story of 11 people from across India: Praburam (Alubee), Kavish Gadia (Freadom App), Nitin Nyati (Nyati Builders) Sushiil Mehta (Jains Car Shoppe) Chitra Prasad (NSN group of schools), Dr Asha Vijay (GarbhaGudi IVF), Kanni and Uvaraj (Poorvika Mobiles), Guru Prasad Makam (Guru & Jana Chartered Accountancy Firm), Sandeep Agarwal (Ratnadeep Supermarkets) Arun Kumar Natha (inPace), Mukesh Jain (Meghdoot Textiles) who began their life with nothing, and are today trailblazers, in their stories, you will find yourself. These stories have been inspiring youth and CEOs, entrepreneurs and home-makers – and even eminent filmmakers who wish to create a series out of the book.
In Megha Bajaj you will find a breath of fresh air – authenticity at its best – fluidity of language and a flow that is inimitable. The book has been a record breaking one and not only had the world's largest virtual book launch but has been known to gift a breakthrough to anyone who reads it. It is a part of school curriculums, corporate programs. Megha is a sought after mentor/speaker and film script writer.
Himanshu Rai
Bestselling Author Himanshu Rai launched his latest work on telecom Fantasy touted to be the next Harry Potter.
Himanshu Rai, a bestselling author of the novels She Erased Her, My Mute Girlfriend and I Am Always Here with You is coming up with his latest Rhythm Roger- The Heat of Phantasmagoria in collaboration with Invincible Publishers, an award-winning publishing firm in Gurgaon. 
His last novel, Rhythm Rogers- The Secrets of Electon is World's first Telecom Fantasy book released over Amazon. His flair for writing can be judged by the fact that he wrote a work of his, Chariots of Mahabharata when he was just fourteen. His latest is the second part of Rhythm Rogers- The Secrets of Electon which was highly appreciated and successful thereby earning a significant number of fans who are crazy about the book. It was even compared to the Harry Potter book series and with this series, India is taking a leap forward in the field of science fiction writing which was, until now, expected only by foreign writers. The first part has maintained the No. 1 bestselling position in almost all categories of Amazon and Rhythm Roger- The Heat of Phantasmagoria promises to outperform the success of the first part and lay down the foundation for a revolution in science fiction writing.
Justyna Nowak-Wysocka
Justyna Nowak-Wysocka is the author of novels with erotic and crime stories. I have already written six novels: the series "Order 999" , "3 Lives, 3 Trials", "Blood Man" and "Autumn Queen". My series "Order 999" became a bestseller and was featured in the Viva.pl newspaper. The Autumn Queen was a bestseller on Amazon.
Why do we read books?  Largely to experience emotions with the characters and get carried away by the plot.  With a good reading, the hours pass like minutes, and the head rests, although the imagination is at full speed.  Such impressions are provided by the series book "Order 999. An Agreement with a Stranger" by Justyna Nowak-Wysocka.  Intrigue, passion, mystery – these plot elements make the reader's heart beat faster and emotions reach its zenith.  A daring story about a young logistics student who, forced by a difficult life situation, starts working in a hostess agency, it begins seemingly innocently, and then takes the reader on a tense journey without a handle.
Nowak-Wysocka has an extraordinary talent for describing erotic scenes with taste, as well as for making intricate intrigues that keep the reader curious from the first to the last page.  Great entertainment at a high level, being a Polish, modern version of the cult story from "Pretty Women", or, if you prefer, another travesty of the immortal fairy tale about Cinderella.
What is certain is that if you love hot novels with intrigue and eroticism in one, then "Autumn Queen" is the perfect read for you.  I really liked the transformation of Alicja, who like a chameleon turned from a tough, even mean woman into a nice one.  She had to be ruthless when she reached the career ladder.  Now her nature has softened.  Alicja Brzozowska's disposition can be compared to the autumn nature, which has many colorful and dark elements at the same time.  And just like fall, which includes the features of every season, Alice has many qualities that allow her to survive in the game at the very center of the company structure.
Abhishek Kapoor
Abhishek Kapoor is an award-winning serial entrepreneur and international bestselling author known for beautifully written novels The Pride of t20 Cricket, and The Selfish Betrayals. His cricket based comedy book recently created a record for being a bestselling book on Amazon in multiple countries, multiple categories, not once but multiple times.
The Kanpur born entrepreneur is an alumnus of Seth Anand Ram Jaipuria School, which is UP's topmost school, and PESIT (now PES University, Bangalore), which is the foremost engineering college of Karnataka. Just like most of his teachers, you may not call him an obsessive geek, but Abhishek has been the academic topper of his batch throughout his student life.
Having worked breifly with MNCs like Infosys, Nokia Siemens Networks, the Computer Science Engineer turned into a business person, joining his family business for sometime. Soon, he started working with tech startups as a mentor, and some of those went on to receive funding of millions of dollars. He was also associated as a director with leading academic institutions at one point of time.
Abhishek has keen interest in making films and music. He has contributed as director, editor, music producer, writer, producer in several short films including Mannu, Ashwini, Basket, and many more. Some of them screened at international and national short film festivals. Abhishek is a member of Screenwriters Association, Mumbai, and even his novels are SWA registered, if any production house wants to go ahead with a movie or web series based on them.
While The Selfish Betrayals is a visual representation of thrilling scenes using the magic of words, The Pride of t20 Cricket is a cricket-based comedy that aims to bring a smile on its reader's face. The language used and the hidden meanings in most sentences in the former is a bit difficult for novice readers, but the comedy book is much easier to read even for the beginners.
His love for music is not hidden from anyone. Though a fan of Punjabi Music in particular, Abhishek recently launched a full-fledged music label that offers worldwide music release and promotion to all its artists. He personally collaborated with bestselling author Sneha Narayanan, and with world record holder multicolor artist Mekha Pradeep to release poem based music tracks, My Body My Choice, and Legendary of Arts respectively. His latest song, Bechainiyon with Aneesh Chanawala and Sonam Chanawala was declared the love anthem of 2021.