Blabber with self speaks about people's emotions, emphasizing on we are also important in our own world. To describe self-worth this idea was initiated by Author Anjali Jain and was succeeded under SGSH publication with help of 50 co-authors who believed in this ideology. With all team efforts, the book was done and dusted in 10 days.
About the Compiler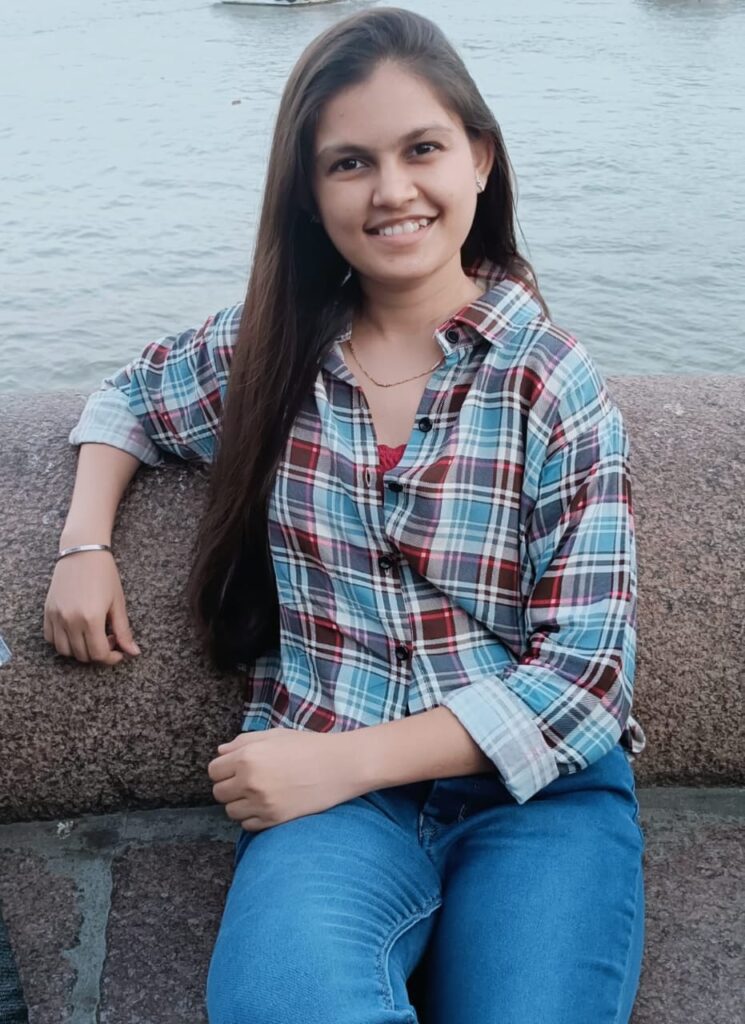 Author Anjali Jain, is a curious writer, her words are sword as well as shield. You will be getting some amazing and creative content from her mind. She likes to write quotes, poems, research articles, blogs, basically everything as she says 'Bleeding Thoughts'. Writing is her whole and soul. Recently she created a world record by writing 101 poems in four different languages. Also, Author of books named "Inking Emotions", you can google "Author Anjali Jain" to know more about her.
Instagram writer @a.j_moyotales
(https://instagram.com/a.j_moyotales?igshid=13ynkk854xuio)
Team of writers who made this successful:-

Priyanka Mali
प्रियंका माली को कविता, शायरी और विचारों को पिरोना पसंद है। वह पिकाचू कार्टून की तहे दिल से प्रशंसा करती है। वो हर किसी की भावनाओं को पूर्णता से समझने की कोशिश करती है एवं पर्यावरण को खुशनुमा बनाए रखने में मानती है। उन्हें समंदर से बड़ा लगाव है वो मानती है की इंसान समंदर से भी गहरा होता है इसलिए वो लोगो के बारे में राय स्थापित करने के बजाए उन्हें जानने में दिलचस्पी रखना उचित समझती है। वो जिम्मेदारियां उठाती है और पूरे निष्ठा से उन्हें निभाती है। उन्हें सच बोलना पसंद है और वो हमेशा सच सुनना पसंद करती है। उनकी दिल से इच्छा है की उनके पापा उन्हें कहे "अगले जनम मोहे बिटिया ही दीजो"।
Instagram Id- priyanka_writes_
Meetu Chopra
वह बी.एस.चोपड़ा और स्व. किरण चोपडा की बेटी मीतू चोपड़ा हैं। वह मध्यप्रदेश (जबलपुर) की रहने वाली हैं। वह २६ साल की है। वह एक अच्छी छात्रा है क्योंकि उसने स्कूल के साथ-साथ कॉलेज स्तर पर भी अच्छा प्रतिशत अंक हासिल किये हैं। वह स्कूल के समय में 'टॉपर' शब्द से भी लोकप्रिय हैं।
उसे लिखना पसंद हैं। उन्होंने सेंट एलॉयसियस कॉलेज से एमएससी सी (पोस्ट) और बी.सी.ए (स्नातक) पूरा किया। उनको कई पुस्स्कार से सम्मानित भी किया गया हैं।
Bindesh Kumar Jha
Bindesh kumar jha was born on 15 July 2003 in the Madhubani district of Bihar. He has been writing poems since his childhood in Hindi and English. His father name is Amod jha and mother name is Rinku Devi. Bindesh has been co-author of various anthologies. He has written different forms of literature. His poems based on nature, love, patriotism and motivation. While his articles based on art, culture tradition, society, and scientific , physiological etc. Currently he persuing his education in physics.
Instagram Id- bindeshkumarjha1507
Kirti Kiran Mahapatra
Kirti Kiran Mahapatra loves writing poems and short tales. Her birthplace is purushottampur, Odisha and she is pursuing graduation from Roland institute of pharmaceutical sciences, Berhampur. She says 'I am not a published writer but I know that my words can touch many hearts. My journey as a writer started when I was 20 years old. I love to write about love, people, memories etc.'
Instagram Id- episodesofmylife
Balram Mandavia
His name is Balram Mandavia. He likes to write poems and shayaris as he loves to express himself in form of words. He also likes to convey his message through his writings. He believes words have the ability to express everything.
Instagram Id- dil_kibattein
Pranali Bhinge
Pranali Bhinge is a student from Mumbai. Writing is her hobby and she wants her words to reach the heart of the people. She is getting Togore Sahitya Samman- Literary Award 2022. Her write-up was featured in The MT. Kenya times paper nd daily hunt. She's getting Google featured top 22 sensational Writer's of India.
Instagram Id- pran_ali3141
अnshuman Raj
He is not a good writer but the best thing of his is that he tries to write quite good.
Instagram Id- @socalled_anshuman
Nilofar Farooqui Tauseef
Nilofar Farooqui Tauseef, hails from Bihar Sharif, Nalanda but stays in Mumbai. She has done MCA & MBA. Team Leader by profession and writer by passion. She loves penning down her thoughts, emotions in her writing. For her "Pen is a sword to bring revolution". Her articles and research papers have been published in more than 300 books and magazines and in reputed journals of the country too.
Instagram Id- writernilofar
Aashiya Suman
A poetess by passion and a shayara professionally. Writing is not just her passion but her life.
Instagram Id- aashiya_003
Usha Srivastava
उषा श्रीवास्तव, कानपुर उत्तर प्रदेश से है. इन्हें लिखना बहुत पसंद है. इनकी कुछ कविताएं हिन्दी पात्रिक मे भी छपी है जिसके लिए इन्हें पुरुस्कार भी मिला है और कई बुक मे सह लेखक भी हुई है. ये सकारात्मक कहानिया, रोमांटिक कविताएं और शायरी लिखती हैं.
Instagram Id- kanpur_shayra
Maya Kanwar
यह है माया कंवर, मोहब्बतसिहं राजपुरोहित की पुत्री। वह वरकाणा, पाली राजस्थान के रहने वाले है। इनको लिखना व पढ़ना बहुत ज्यादा पसंद हैं। इन्होने कही कविताएं एवं सुविचार लिखे है, जिसकी वजह से इनको कही पुरस्कारो से सम्मानित भी किया गया है। प्रत्येक काम मे रुचि रखती हैं। इन्हें दोस्त बनाकर दोस्ती निभाना पसन्द है। इनको प्रकृति से प्यार हैं, यह पर्यटक स्थलो पर घूमना पसन्द करती है। रोज नया सिखना पसन्द करते हैं और इनकी शिक्षा राजकीय विधि महाविद्यालय अजमेर से चल रही है।
Supriyanand Das
शीर्षक "जिन्दगी के कड़वे घुट" की लेखिका सुप्रियानंद दास जी है जो कविता, कहानी , विचार जो सच्ची घटना पर आधारित लेख लिखने मे अत्यन्त रूचि रखती है, यह लेखन के साथ समाज मे नव जागरण फैलाने के मार्ग मे सफलतम प्रयास कर रही है। यह उत्तर प्रदेश जीला गोरखपुर मे जन्मी सुपुत्री स्वर्गीय श्री श्रीमति सुनीता दास, लेखन के माध्यम से नवजागरण की नव ज्योति प्रज्वलित करना चाहती है।।
Instagram Id- @thanatos_death99200
Jyoti Choudhary
ये हैं ज्योति चौधरी.. अपने परिवार की लाडली बेटी… हमेशा चेहरे पे मुस्कान बिखेरने में महारत हासिल है इन्हे… दिल की सीधी और कलम की जादूगरनी है, पढ़ना और लिखना इन्हे सबसे ज्यादा पसंद है.. इनका लिखा एक एक शब्द, माला में पिरोया हुआ मोती की तरह होता है.. जो खुद में एक कहानी बयां करती है… आईये आपको रूबरू कराते हैं इनके लिखे हजारों नज्मों में से कुछ चुनिन्दा नज्मो से…
Instagram Id- _lifesays
Yash Bhattar
Yash Bhattar is a graduate from Mumbai. He loves writing poems, quotes and especially punch lines. Traveling and visiting new places is on his top list. Always keen to explore life's new path. He is excellent at managing team and supportive to everyone around him.
Instagram Id- introvertt_pen
Radhika Sharma
Radhika Sharma, stays in yamuna vihar near Tiny Totz playway school, Delhi. She is most talented girl, likes to participate in extra curricular activities. she has written 50 poems on self motivation, life experiences and patriotic themes. She received first award in poetry competition organised by her school. That opportunity gave her motivation to write more poems and than she won second award in college event. She also write poems on environment and would like to thank compiler Author Anjali Jain for providing a wonderful opportunity to write on Self Talk, Self Motivation basically myself but in a different manner.
Instagram Id- radhikasharma62
Dimple Saini
मैं डिम्पल सैनी, मैं एक अध्यापिका हूँ। हिन्दी पढ़ाना मुझे बहुत अच्छा लगता है। मैं हमेशा व्यस्त रहना चाहती हुँ। मेरे जीवन में एक अमूल्य उपहार हैं, मेरे अमूल्य दोस्त जो हमेशा मुझे आगे बढ़ने की प्रेरणा देते रहते है। कभी थक भी जाती हूँ तो थकान महसूस नहीं होने देते।
मुझे हर काम करना पसंद है, मैं यह मानती हूँ कि यदि हमारा अंतर प्रेम की ज्योति से प्रकाशित है और सेवा का आदर्श हमारे सामने हो, तो ऐसी कोई भी कठिनाई नहीं जिस पर हम जीत प्राप्त न कर सके।
Alka Kumari
It's necessary to be bubbly and cheerful but be yourself and stern when it comes to your dignity. Alka and her personality is same. She keeps smiling storing lot of stories inside.
Instagram Id- all_317akku
Charmi Dinesh Barbhaya
Charmi D.Barbhaya born & raised in Mumbai. She has completed M.com (Accounting & Finance). She is a teacher. She started her writing passion just few years back. She believes that writing is one of the powerful weapon through which someone can express his/her feelings deeply. "She is fond of learning new things & implementing it in writing way".
Instagram Id- #feelingswith_4mi
Mohammed Sohail
He is Mohammed Sohail from hyderabad pursuing his bsc in nutrition and he is also the founder of sparkling cornexpress Media . He is also the part of multiple anthologies…
Instagram Id- sohail_quotes_22
Fehmina Siddiqui
MS. Fehmina Siddiqui is founder of Elysian Pens, a writing community, a place where writers can explore their true hue.
She also works as a professional writer and poet.
Instagram Id- fehminasiddiqui9092
Tanisha Shah
Tanisha is a 19 year old, art enthusiast. She appreciates artsy elements and is very fond of sky gazing. She's a multipotentialite, mostly when it comes to painting & reading.Cats, coffee, & music are her all time comfort. By profession she's a CS and Law student.
Instagram Id- tan.talez
Harshita Saha
Harshita is 21 years old medical student. She is from Ranchi, Jharkhand. She is a writer and has been writing since two years. Also interested in cooking, art and travelling. She has secretly discovered the rule breaking magic of content writing and article making.
Facebook Id- harsh.ita_6301
Bains Gurwinder Kaur
BAINS GURWINDER KAUR is a writer who wants to convey her thoughts and feelings about herself through her writings. Her writings includes a part of her journey which is filled with sorrow, happiness and life lessons. Which is enthusiastic, self-realizing, self-healing, heart warming, Insipiring and motivating.
Instagram Id- @_wind_28
Srishti Maheshwari
She is Srishti Maheshwari from desert area Barmer. She is a hidden poet and writer pursuing in her Bachelor's. She is humble and polite. She writes on platforms like YourQuote. She is sincere about her passion and work.
Instagram Id- maheshwarisrishti27
Rupam Sinha
Rupam Sinha is not a writer, nor she writes much, all she write is her feelings. Writing is like a therapy for her as well as motivation. Sometimes her writings can bring you tears and sometimes delight. She is passionate & dedicated towards her work!
Instagram Id- rupamsinhaha
Devika Gautam
Devika Gautam has always been drawn towards creativity, from writing to singing, from creating to dancing. She will continue to write her heart out for the rest of her life, no matter what profession she takes up, no matter what turns her life takes, she'll never stop the process of picking up a pen and pressing it down and imprinting the ink that will come out from the depth of her thoughts and heart. She wants to tell her readers that it's not important to say something out loud always, sometimes it's okay to just let it rest inside the covers of your notepad, of the walls of your diaries.
Instagram Id- devikagautam6039
Kerdamehi Pakma
This is Kerdamehi Pakma, a resident of KyndongTuber, West Jaintia Hills District, Jowai, Meghalaya, NE, India and still an undergoing student who aimed at becoming an international poet, writer and novelist. Farmer by profession, writing as a hobby and singing as psychic power.
Instagram Id- damepakma96
Johana Miracline S S
Pursuing master's degree in English language, love to explore the world Everyone probably thinks that they are the best because poets teach you to think about everything in a new way, about yourself or the world.
Instagram Id- joo_djurist
Dhivya Irene
Even when everything around her goes wrong, she never leave her self pathless. She says, "I don't want to loose my self in this vast world in search of sojourned pleasures that resides all around me." It might be odd but it's never a worse one. When sorrow surrounds her, she will never miss even a small happiness that hits her.
Instagram Id- dhirenekd.11_
Ankita Choudhary
Ankita Choudhary is a student studying in 10th STD. She is 14 years old who loves writing & reading.
Instagram Id- akita72_
Raghavi Raghu
Raghavi Raghu is 19 years old, she passed Class 12 from Sunshine senior secondary school, Chennai and is now doing her Bachelor's degree in advanced zoology and biotechnology at JBAS College for Women. Apart from writing she also pursues sketching, reading books and debating as interests. A huge bibliophile herself and has a vivid love for new experiences in life. She is just like the girl next door living in a bustling city with huge dreams and hopes that are just as sophisticated as her. Writing has not just been her passion but her way of communicating to this Unspoken world.
Instagram Id- ivahgar_11
Janvi
Janvi, 18 yrs old, writer, has written in several genres. She's the winner of Halloween Hungama Event 2021 by scopup In this dark world, she wants to enlight the thoughts of many with the help of her writeups.
Kalyani Majhi
She is a girl from odisha (Dist – Bargarh, Block-Bijepur). Now she is pursuing MA in economics. Her hobbies are drawing, dancing and, writing. Instead of writing poetry she also love to write quotes.
Instagram Id- @crazy__queen_kaira
Blessy. A. Carlin
Blessy A. Carlin is a passionate and aspiring writer, and is currently pursuing International Business from Commerce branch. She loves to accept new and challenging tasks. Being a voracious reader she started to attempt using her intellectual mind to express her thoughts by penning down on blank papers. She believes that a pen in hand and an artistic mind will give a whole new perspective to the same old world.
Instagram Id- blessy_a_carlin
Muralidhar Agrawal
He is Muralidhar Agrawal from Nepal. He loves writing, and has been writing since his student life. He is a B.Com student and presently engaged in business.
He started writing with the self-motivation in his career. He wishes to continue his hands in writing till the time favours.
He has published a solo book under several publications and is presently compiling anthologies
Instagram Id- writings_from_heart_92
Hridya Sharma
This is Hridya Sharma, A girl with dreams to paint the sky and wishes to touch the sky.
She writes poetry radiant in the rays of the sun.
Instagram Id- theserenestories
M.Gopika
M.Gopika is a budding writer, hailing from Kadaladi, Ramanathapuram District. Her parents D.Muniyasamy – M.Mangaiyarkarasi. She was born on 23rd September, 2000. She started her journey as an English writer a year ago. Most of her poem's will inspire you to bring your best in you. Her write ups are simple and small, but the meanings and the pain are deeper like the deep sea. She penned her thoughts directly from her heart.
Instagram Id- grazy_poet_g
Saima M
"You will always find me glued to a screen either empty scrolling or bingewatching another K-Drama."
This is the way she would sum herself up in a line. Having to start a career in finance, she finds her escape in boybands or fictional characters. With infinite thoughts running 24×7, writing keeps her sane. She is Saima Mukadam, 22 years young.
Instagram Id- @cheerstosaima
Harshita Kunchhal
This is Harshita Kunchhal.
Love to words
Life to write
Brain to pen down
Oh! This sounds unequivocal. But life of this girl is just a happening. You all will understand a beautiful learning from the phrase "only staying Active will make you want to Live hundreds."
Kasis Shaw
She is a young author who wants to change the world by compassion. She is a bookworm with an insanely creative mind. Her other hobbies are dancing, reading, sketching and playing the guitar.
Instagram Id- silentwisperx
Shiza Karim
Hello! She is SHIZA KARIM from Patna, Bihar. She is a student in 8 standard and is 12 years old. She's a co author of more than 50 anthologies and a compiler of 4 anthologies. Her debut book as a co author is ARMY'S FOREVER based on BTS. She's little girl with big dreams. She is a devotee of Islam.
Instagram Id- shizakarim01
Mariam Oreoluwa Ariwoola
She's a Nigerian poet and a writer. She's a student and a young lady aspiring to change the world with her writing. She wants to touch the hearts,mind of great minds like her. She's a lover of God. She's written many poems and has participated in several anthologies where her name was seen. She goes by the pen name Maryam inks. She looks forward to doing more of writing and participating in anthologies.
Instagram Id- ariwoola94
Aditri Anushhka
Aditri Anushhka, a 17 year old cosmos lover who is also an astrophile as she shares all her emotions and secrets to the stars by admiring them and talking to them. She loves to sing and believes that music can heal the most painful wound one can ever have both externally and internally. She is just a simple girl who aspires to fulfill all the dreams which her mother saw for her and for herself too and she loves to scribble down her thoughts as it separates her from the chaotic world outside and helps her to enter in her own magical world of feelings, words, emotion, love and pain.
Syedah Hafiza Rabia Iqbal
Syedah Hafiza Rabia Iqbal, Pakistani published writer, by profession she's a teacher and co-author of 500+ anthologies, poetry is her favorite genre. She's an artist and animal lover too.
Instagram Id- @syedah91
Saroj Bala Rajput
She is nurse by profession but she is a singer , an author, painter also.
She always writes with her heart. And she says that "be happy, stay happy and spread happiness everywhere ".
Instagram Id- sarojbala0119
Aisha Muhammad
Aisha Muhammad is a kano base with writing skills in all genres of literature. She is an orator whose voice is recognized as an icon of positive change in the society. She is the communication Director for CELOHA, Nigeria. Also an undergraduate of English and Literary Studies at Bayero University Kano.
Instagram Id- _the_ambitious_poet
Prince Hritz
Prince Hritz is happily unmarried Delhi-based Public Speaker, Anchor, MC, RJ, Podcaster, Singer, Sr. Brand Marketing, Training & Employee Engagement Manager. His pen name is Hritz who believes in writing infectious thoughts, words, & verses. Hritz is someone who is proud August-born Leo who loves dark black coffee like crazy, writes a lot if it's 3 AM nocturnal night & simply loves Saturdays.
Instagram Id- @rj_hritz
Maria Cristina Cortado
Tina is an 18 year old, amateur poet living in the Philippines. She is a fanfiction writer since 2017 and a co-author of the "Scarred Dreams" published by Wordsmith Publishing. She is currently at 12th grade and continuously writing in literary works.
Instagram Id- chrstnx_x
B.Raji
B.Raji is from samayanallur, Madurai. Her father is Mr. Balamurugan and her mother is Mrs. Janagavalli. At present she is pursuing her first year of M.A in English literature. She loves writing her memoir. Furthermore with her ingenuity in the version. She is the co-author 100+ anthologies some of these are published and some of these are waiting to publish.
Instagram Id- rajibalamurugan2021
W.A Neena Taimoori
Neena is hailing from Pakistan. A poetess and a writer. Of English & Urdu language. Striving to reach beyond the skies of literary and philosophical feats. Her poetries and proses has been accepted in more than " 70 " different Indian anthologies and Pakistani anthologies plus newspapers as well. Is an author of anthologies namely "Writers words are their Blood Sweat", "Gemstones", "Serendipity," "Meliora," "Sper," and "Melancholic Phases".
Instagram Id – @n.eeat_cha.os
Sincere regards to each and every writer for penning their soul and making this book so wonderful.