"Hardwork is the key to Success!" There is no need for backstepping if we know the right path of life which will take us forward to grow our skills & fulfill our dreams. Motivation & Inspiration is all about self belief, passion, dedication & hard work.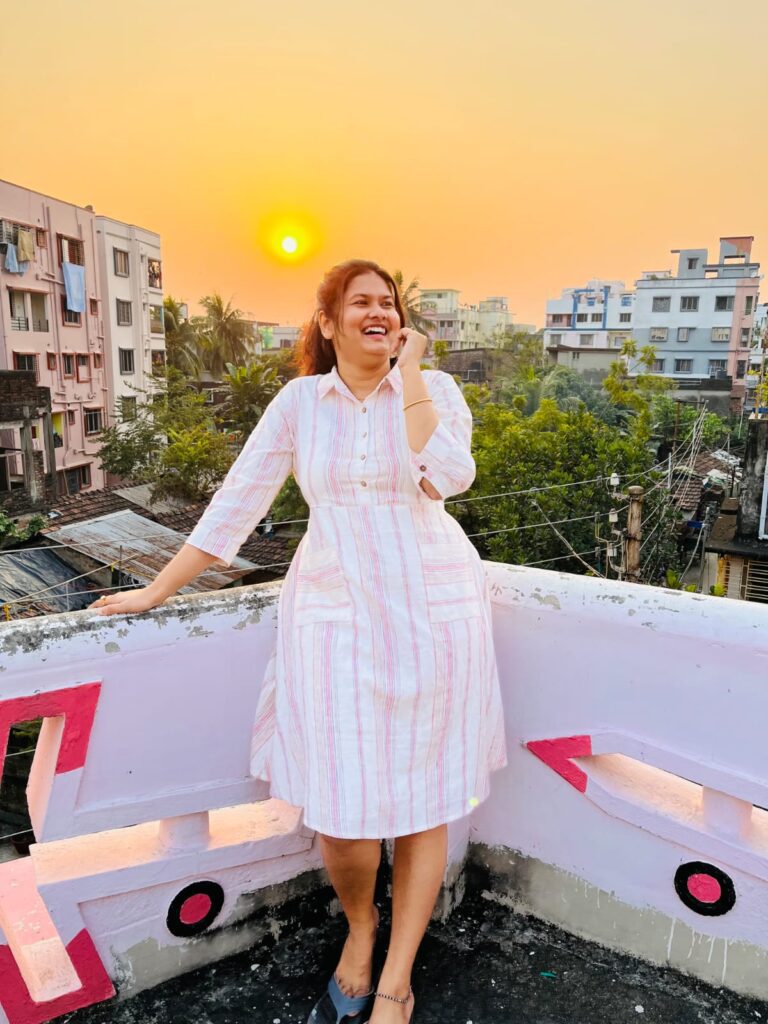 Dr. Priyasi Das belongs to the City of Joy Kolkata. She is an Award Winning Celebrity Author, Engineer, Publisher, Double Doctorate in Literature, Multiple Record Holder, Guinness World Record (Mass Attempt Holder) & MISS E&E Universe (West Bengal). She has Authored 8 Books & Co Authored more than 48 Anthologies. She is the founder of Priya's Wisdom Publication.
Priyasi is a well known author for her 8 Literary Masterpieces. She completed her research & thesis in Literature & got her DOUBLE DOCTORATE DEGREE in Literature from GLOBAL TRIUMPH VIRTUAL UNIVERSITY & MAGIC BOOK OF RECORDS. She has achieved multiple National & World Records for being the first person to write a Reality based book on COVID-19. She is also a Certified Mentor & Education Ambassador of INTERNATIONAL INTERNSHIP UNIVERSITY-IIU. She has been awarded with INDIA BOOK OF RECORDS, VAJRA WORLD RECORDS, OMG BOOK OF RECORDS, GLOBAL RECORDS RESEARCH & FOUNDATION, MVLA GLOBAL ACHIEVERS AWARD, LAUREATE AWARD & many others.
The list of her achievements is too big to count. So here's the list of Thirty Best Achievements of her –
1. India Book of Records
2. Vajra World Records
3. Global Records & Research Foundation
4. OMG Book of Records
5. Star Book of International Records
6. Laureate Award
7. Nari Samman Award
8. Global Achievers Award
9. Cherry Book Award
10. Double Doctorate in Literature
11. 100 Inspiring Authors of India
12. Guinness World Record (Mass Attempt Holder)
13. India Star Icon Award
14. India Star Women Award
15. Her Ka Hunar Award
16. Influential Women Award
17. 50 Inspiring Authors Award
18. GrandsQueen Leadership Awards 2021
19. REX Karmaveer Chakra Award
20. Pride of Nation (Pratibha Samman Award)
21. Ne8x – Author of The Year 2020
22. Author Pages – Best Women Writer Award
23. ICMDR – Best Poetry Award
24. India Star Republic Award
25. India Star Diva – 2019
26. Miss E&E Universe (West Bengal) – 2019
27. Aaghaz 2K20 Author Awards
28. Cherry Book Awards – Season 3 Winner
29. Covid Warrior of the Year
30. Real Life Heroes of Covid-19 & many others.
THE JOURNEY OF WRITING & CREATING A UNIQUE VENTURE –
Priyasi completed her Schooling from INDIRA GANDHI MEMORIAL HIGH SCHOOL, DUM DUM & Graduation from TECHNO INDIA, SALT LAKE. Priyasi started writing when she was 16. Writing has always been a soul healer to her. Earlier she used to struggle a lot to get her books published by various publication houses. Then she saw a massive difference in publishing packages which were not at all worth it. She co-authored more than 48 Anthologies and wasted a lot of money. That is when she decided to create her own venture, which will be reliable and pocket-friendly for every aspiring author & which will recognize true talents. This is how PWP came into her mind. It has been 2 years since PWP is giving impeccable service to the community of Authors, Writers, Bloggers & many others. Priyasi never thought of becoming an Entrepreneur but while completing her college she came to know about many aspiring talented people. But due to a lack of opportunities, they stopped themselves from fulfilling their goals & dreams. So she came up with an idea of a venture which will help aspiring talents to get themselves recognized via various resources.
She is providing a platform for talented individuals – PRIYAS WISDOM PUBLICATION. Priya's Wisdom Publication or PWP is a Co-Company or Co-Venture of M/S Barnali Enterprise, registered under Govt. Of India. PWP provides various services like Book Publishing, Book Marketing, PR, Award Organizing &, etc.
ABOUT HER BOOKS –
1. SELF PUBLISHING VS TRADITIONAL PUBLISHING –
This book is a Basic Research book on two different types of publication aspect i.e., SELF PUBLISHING & TRADITIONAL PUBLISHING. Every person has different opinion & perspective regarding publishing a book. This basic research book will help budding or aspiring authors & writers to choose the best platform/format for their book publication.
2. PHASES OF COVID-19 –
The World is changing everyday and people are suffering from this drastic Pandemic with their mental & physical strength. This virus is truly taking away our loved ones and creating a barrier of destruction in our life with huge panic attacks & depression. This book contains the truth of this deadly virus which includes several deep thoughts & elaborations regarding proper precautions, symptoms, medications & etc. which portrays my personal experiences regarding the virus.
3. POETIC RHYTHMS –
Thoughts are indescribable & unimaginable. Thoughts can be emotional, depressing, loving or anything. This book is a collection of 20 Short Poems which elaborates different emotions & feelings.Every word has its own beauty which creates a sentence with meaningful reality.
4. VERSE OF EMOTIONS –
Every book defines its eternity of words through its beauty & elaboration. The reality of emotion comes from the truth of imagination which has been portrayed in this book with several thoughts & reality. This book is a collection of Quotes & Nano Tales which is based on several deep thoughts which depicts the truth of emotions.
5. HRIDOYER SPONDON –
We all love writing as writing brings out the best in us. This book is a collection of 30 Bengali Poems which potrays the emotions of Love, Care, Friendship & Relationship. The book will take you to the path of reality & emotions through its mesmerized words!
6. THOUGHTS FROM INNER SOUL –
Thoughts from Inner Soul is a Book of Poetry, Short Stories, Nano Tales & Quotes which is based on various heartful emotions like love, ignorance, bitterness, friendship & many others. The book defines the perfect immortality of emotions through various mortalities. Writing comes out from the depth of heart. Hence, thoughts are always considered to come from Inner Soul. The Book will show you the meaning of love and acceptance through the reality of cruelty & generosity where you can find the perfect meaning of friendship and relationship.
7. THE UNFINISHED LOVE –
"All Love Stories consists a great aspect of importance in everyone's Life. Some of them carries a Blissful end whereas some of them carries a Bitter end. The elaboration of the book's title let us know that here the Love is Unfinished hence it ends with an beauty of Immortalism. Not all Love Stories are good enough to remember. But this one definitely is something out of the box and unimaginable. This book consists an elaboration of short story."
8. WRITER'S WRITE –
"A Book of Love & Reality."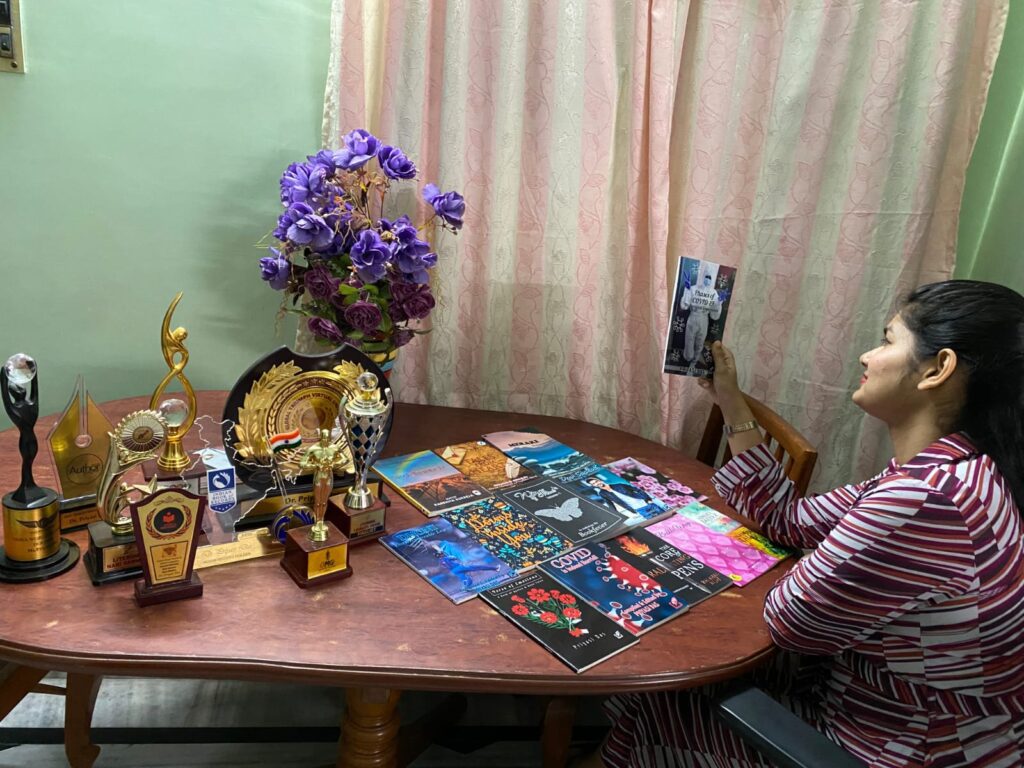 THE BIGGEST CHALLENGE OF HER LIFE –
Priyasi's biggest challenge was to save her father from COVID-19. While the whole World was suffering with pandemic, Priyasi's father was suffering from COVID-19 just like others. Her father had almost every kind of symptom. She didn't want him to suffer for which she used to wear her PPE Kit, didn't fear for anything, and took good care of him by giving him proper medications with the doctor's suggestions. She monitored every symptom of him, and she also followed up her Journal. This is how she created her thesis and research on COVID-19 & got her Double Doctorate in Literature. She also wrote a reality-based book on COVID-19 titled "Phases of COVID-19", an Amazon Bestselling book, National and World Record holder winning book.
Priyasi is the Education Ambassador of INTERNATIONAL INTERNSHIP UNIVERSITY – IIU & she is promoting our culture & education globally & internationally. She is a Certified Mentor by IIU & she believes – "If we don't struggle, we won't get success. By hard work and determination, we get success and appreciation. So don't stop yourself and have faith in your efforts."
CONNECT WITH HER –