ABOUT THE EVENT
Namya Magazine July Edition, an interesting edition with 12 participants with their wonderful writings and artwork. This 12 are the special ones from the loads of works we have got. This magazine also contains child's corner i.e, a small interview of the talented littles. This time we have Maanya Milind Bidnur, a 2 year talented kid and Rishika Tyagi a 8 year old record holder as the youngest kid who have recited most sanskrit words in a minute.We encourage different genres of writings like poetry, articles, interview with writers. Madhubani painting is also a part of this Edition by our talented artists Reena Kumari and Amisha Verma. In this July Edition we have got writers and artists from different states who contributed their outstanding pieces of writing. They got selected among many other writers. . Each and every topic choosen by the writers were amazing and outstanding. And in our cover page we have one of the most talented actors of our film industry Mr. Sunil Vishrani. A well known face in superhit films like Gujjubhai the Great, Saaho, Rocky Handsome etc. Khichdi is one of his movie known and loved by all 8-80. July Edition of Namya got a special touch with him being the cover star.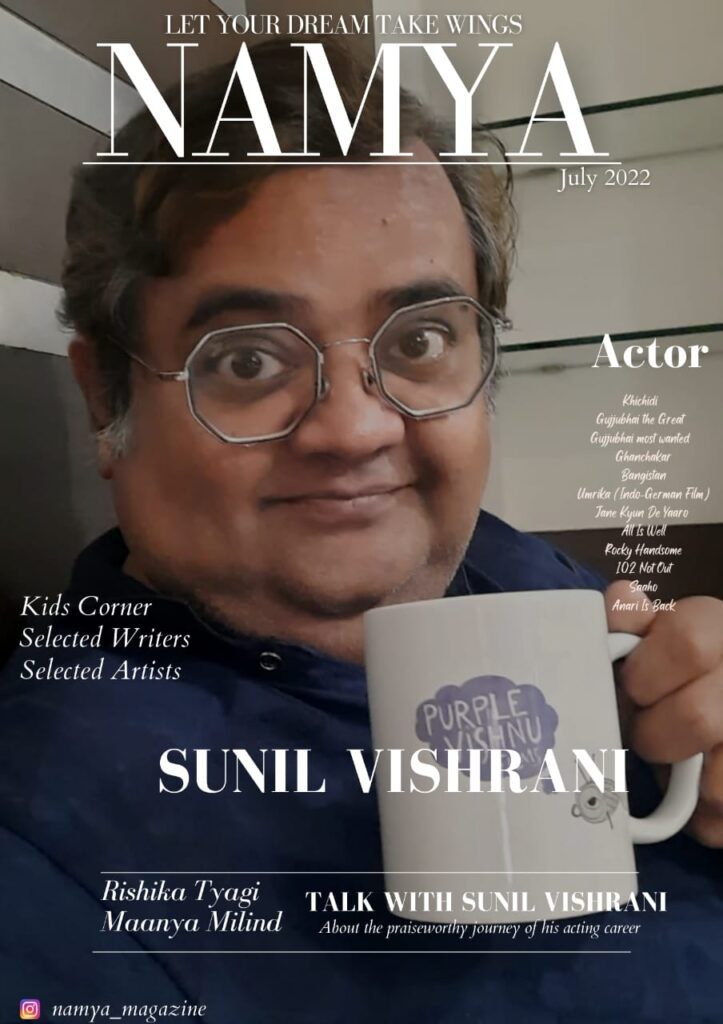 Cover Star :- Sunil Vishrani
About the Foundation
Namya Foundation is a group of company under which Namya Magazine exists which is founded by Puja Kumari on 15th February 2022, co-founded by Nikita Mukherjee. The name Namya itself serves the purpose as it means 'worthy of honour'. We as a foundation appreciate the writers's and artist's creative and amazing skills. Poetry and writing competition also runs under the foundation. Here we select the writers and artists according to their merit before publishing their work whose sole motive is to provide new perspective and add value to the society.
Email id :- foundationnamya@gmail.com or magazinenamya@gmail.com
Instagram id :- namya_foundation or namya_magazine
Instagram id :-
https://instagram.com/namya_magazine?igshid=YmMyMTA2M2Y=
https://instagram.com/namya_foundation?igshid=YmMyMTA2M2Y=

About the Founder
Puja kumari is hailing from Bihar.She is a 18 years old Ambitious Girl. She is a student of jawahar Navodaya vidyalaya.She is a founder , poetess, co-author and hindi writer.Her hobbies are reading and writing.
Now she has completed 30+ anthology as a co-author and 35+ anthology as a Compiler. And her 22+ book was published on amazon and notion press.
Instagram id :- the_giggle_darpan24
https://instagram.com/the_giggle_darpan24?igshid=YmMyMTA2M2Y=
About the co-founder
Nikita Mukherjee belongs from West Bengal. She is an English Graduate who is a passionate, prolific creative writer and have left her mark on various anthologies under different publications. She have co-authored in more than 40 anthologies and compiled one anthology named 'Dream of a Brown Girl'.
She loves to try and experiment new forms of poetries. Also being a avid reader, she writes book reviews too.
Instagram handle:
peppyinscribes
nik_ee90
https://instagram.com/peppyinscribes?igshid=YmMyMTA2M2Y=
In our 4th edition ( July Edition) of magazine. Selected 12 Participants are participated.
Maanya Milind Bidnur
Rishika tyagi
Mayaa S H
Dharinee Arvind
Neelaksh
Abhishek Bordia
Prathima Rao G
Annawasha Naskar
Manisha Baskaran
Kartik Raj
Reena Kumari
Amisha verma
Amazon link
https://www.amazon.in/dp/B0B8X7W7FX/ref=cm_sw_r_apan_R15DDXR8TRQ6SHFNYN4J